January 28, 2021
Developing a Software Training Strategy That Rocks
Technology evolves so fast that it's not uncommon for skills gaps to suddenly "appear" out of nowhere. While the "rapid pace of change" and the global IT skills shortage present a pressing need to lock down talent ASAP, companies shouldn't rush toward band-aid solutions.
Focusing on short-term talent solutions, unfortunately, doesn't solve the problem. At best, it allows you to deal with it later, which, in the case of the current skills shortage, could mean bigger challenges down the road. Eventually, these temporary solutions can cause lasting damage to your organization.
It's better to be proactive about creating a sustainable software developer training strategy that allows your talent to evolve at the rate of change. This is critical since, according to the World Economic Forum (WEF) 2020 Future of Jobs report, skills gaps are likely to remain just as high over the next five years as in-demand skills evolve.
Effective software developer training is a long-term strategy that aligns around business needs, deepens knowledge, and keeps your workforce relevant. In this article, you'll learn how to develop a successful training program for your team.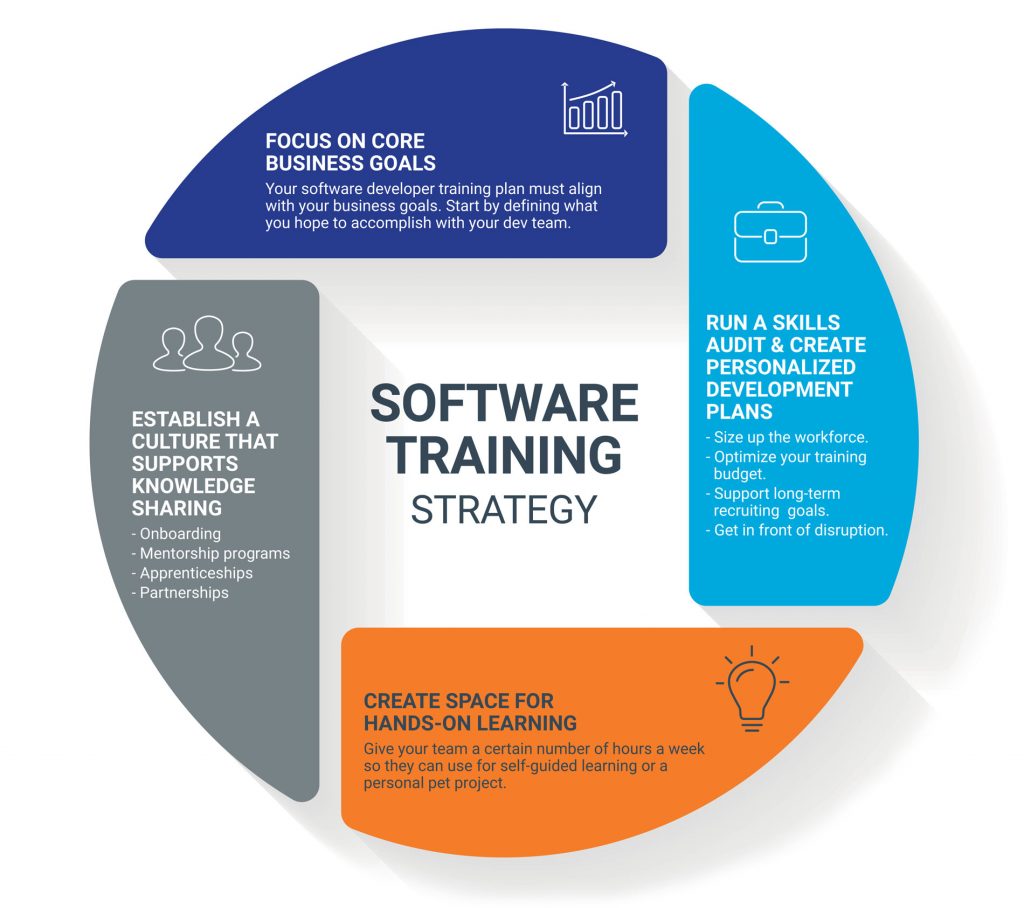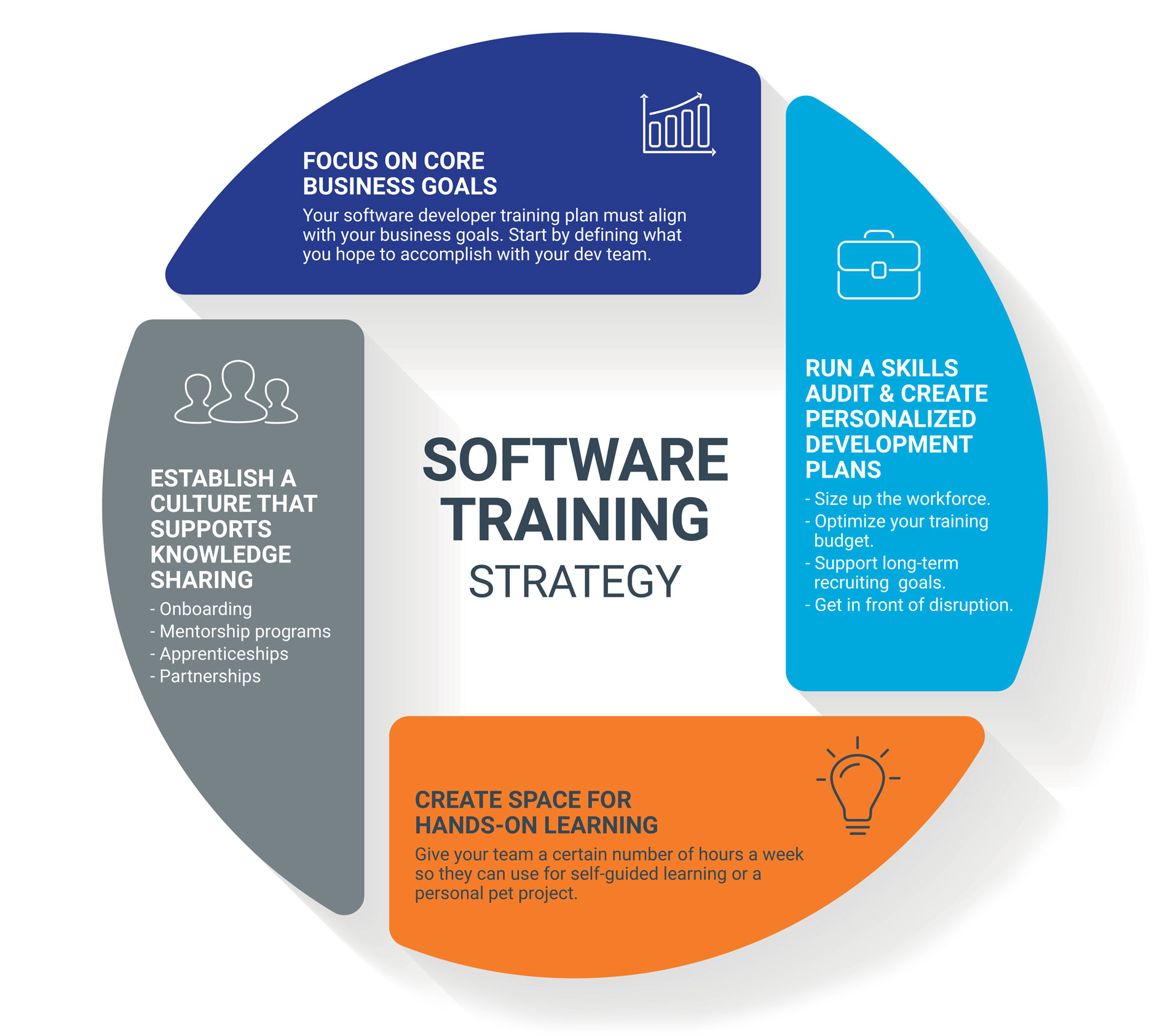 Focus on Core Business Goals
According to the Consumer Technology Association's 2020 Future of Work Member Survey, 80% of technology companies believe they'll need more employees with technical skills in the near-term, while 75% say they're already struggling to find candidates with the right skills.
Researchers found that data analytics, general software development, and project management are the most in-demand tech skills as of October 2020. They now represent the foundational skills that should be the first priority for organizations, regardless of industry, business size, and objectives.
In the World Economic Forum (WEF) report, 40% of business leaders stated they believe that their existing workforce will need to be re-skilled within the next six months, and a whopping 94% said they now expect employees to learn new skills on the job–up from 65% in 2018.
Your software developer training plan must align with your business goals. Start by defining what you hope to accomplish with your dev team. Do employees have what it takes to move the business strategy forward? Do they deliver products that exceed customer expectations? Are they using state-of-the-art technologies and processes?
Keep an eye on industry trends–think programming languages and technologies that are just emerging or growing fast.
As you evaluate the latest set of trends, focus on those that connect to your core business model. Look to align your training goals with the roadmaps and release schedules of the most relevant tools being used by your aggregate client base.
3Pillar Software Engineer, Paul Estrada, adds, "in some cases, you may find that you need to hire specialized talent with research skills to keep up with innovations in a field. Take Machine Learning, for example. ML is hot these days. If you're a big enough company or really want to beat the competition, you'll need AI/ML researchers and data scientists, not just developers. This creates a whole new need for training and transfer knowledge dynamics."
Run a Skills Audit & Create Personalized Development Plans
Once you've determined your business goals, run a skills gap analysis to figure out where your workforce is right now and what skills they need to obtain next to move the needle in the right direction.
Regular skills audits allow organizations to:
Size up the workforce. Identify where your team is right now, how far their current capabilities fall short of business needs, and which areas should be a top priority.
Optimize your training budget. On average, organizations spend $1,200 per employee per year on training. Running a skills gap analysis can reveal where you're spending your training budget and allows you to reallocate funds toward programs that support the big-picture strategy.
Support long-term recruiting goals. Skills audits also allow you to identify the skills you can't develop internally. Once identified, you can focus your recruitment efforts on bringing in the talent you need to start filling critical gaps.
Get in front of disruption. Keeping up with the latest technologies and best practices is essential for survival.
Armed with the right insights, you can start mapping skills gaps and developing a plan for closing them–be it revamping your training strategy or creating a new program that better aligns with where your industry is heading next.
For example, you might consider creating personal development plans for your software engineers based on the results of their assessment.
Use this as an opportunity to discuss development opportunities with individual employees. What are their career goals? What skills are they interested in learning or improving? From there, create a plan that aligns your upskilling initiative with each developer's strengths and interests.
3Pillar's Octavio Islas Frias says, "I think it's important that the training strategy match with specific career roadmaps so that engineers stay motivated and interested in the work."
If it's not realistic to provide personalized training, creating standardized career paths that apply to specific groups of employees with similar goals may be just as effective.
Whatever your approach, your software engineer training strategy should fit into long-term development plans that build developer skills over time and allow them to contribute to the organization's success in new ways.
Create Space for Hands-on Learning
Many training workplace training programs rely on lectures or pre-recorded videos. It isn't exactly the best approach for teaching employees new skills they can put to good use.
Most (good) developers are naturally curious. They're excited about trying new tools, remain eager to learn new programming languages, and finding new solutions to problems. Consider using your team's inherent curiosity to your benefit by giving employees time to explore emerging technologies on the job. This might mean giving them a certain number of hours a week they can use for self-guided learning or a personal pet project.
Abel Gonzalez Garcia says, "apart from the time, you'll also want to make sure that employees have access to the resources they need to try the new tools–such as permissions to install software programs or registration with paid accounts–so that the company security policy isn't negatively impacted."
You might also try something more formal such as a paid training program for developers who are interested in learning specialized skills that help you achieve future goals.
For example, Hired's 2020 State of Software Engineering report saw demand for AR/VR talent rise by 1400% and noted that engineer respondents predict that we won't see the full impact of the technology for a few more years. As such, (and assuming you have a valuable use case in mind), now might be a good time to start developing AR/VR specialists before the need becomes critical.
That said, if you choose to make self-guided learning part of your company culture, keep in mind that employees may need an incentive to fully buy into the program. According to a recent LinkedIn study, 94% of employees say they'd stay with a company longer if it invested in learning programs.
Yet, despite their interest in learning opportunities, employees often struggle to make room in already-busy schedules to take advantage of those opportunities. Business leaders may want to consider connecting training opportunities to specific outcomes, like salary increases or career advancement opportunities—which can both address the skills gap and create more effective learning.
Establish a Culture that Supports Knowledge Sharing
Coding Sans' State of Software Development 2020 report stated that the biggest challenge tech workers face is knowledge sharing. Respondents cited a lack of mentorship opportunities for junior developers, as well as effective onboarding for new employees.
Onboarding. New hires are 30x more likely to consider leaving an organization if they don't think they can achieve their goals at that organization.
Mentorship programs. Creating a culture where mentorship is a priority allows you to keep the talent pipeline full. It allows you to promote from within, keep pace with change, and save money on recruiting and onboarding costs. What's more, it also allows you to avoid the opportunity cost of using outdated technology and responding too slowly to change.
Apprenticeships. Apprenticeship programs or internships offer a transitional training program where junior-level talent can learn the skills they need to be successful on the job. According to the CTA survey mentioned above, 72% of respondents say they plan on hiring new employees based on relevant skills, regardless of education level, while 24% say they plan on looking toward workplace training programs like apprenticeships to fill gaps.
Partnerships. For organizations lacking resources required to develop software engineer training programs on their own, engaging external stakeholders such as educational institutions, non-profits, foundations, and industry associations can be a cost-effective alternative to building and maintaining a program from scratch. Plus, it comes with the added benefit of adding fresh perspectives, new talent, and a network of relevant connections to the workplace learning experience.
Finally, it's important to mention that a culture of learning starts at the top. The LinkedIn report also found that while larger companies understand the critical importance of closing skills gaps, many enterprises fail to leverage their executives to champion a culture of learning. Executive championship plays a critical role in encouraging employee participation. The report found that employees spent more time learning when executives recommended specific online courses.
Final Thoughts
As organizations compete for a limited number of qualified candidates, they'll need to rethink their software developer training strategy in order to get ahead of the skills gap and find creative ways to evolve their workforce to keep pace with change.